18th North Carolina Infantry "The German Volunteers"
Wir sind die "Winkler's German Legion", ein Zusammenschluss deutscher Spieler, die War of Rights als Teil einer organisierten und kameradschaftlichen Truppe erleben möchten. Mit unseren zwei historischen Teileinheiten, der 18th North Carolina Infantry und der German Light Artillery, repräsentieren wir in der Community die geschichtliche Rolle deutscher Einwanderer auf der konföderierten Seite während des Sezessionskrieges. Diese Aufgabe erfüllen wir bereits seit unserer Gründung im Jahr 2016. Wir bieten unseren Mitgliedern deshalb jede Woche historische Drills, spannende Gefechte, eine hilfsbereite, historisch versierte und freundliche Community. Bei uns findet ihr ein geballtes Hintergrundwissen zum Amerikanischen Bürgerkrieg. Dieses Wissen setzen wir bestmöglich für unsere Community ein – so verwenden wir aus Gründer Authentizität beispielsweise englische Kommandos. Doch keine Angst! Mit viel Ausdauer und Geduld während der regelmäßigen Drills erlernen unsere Mitglieder die notwendigen Kenntnisse für das Gefecht. Egal ob ihr das Schlachtfeld als zäher Infanterist beherrschen wollt oder den Feind aus der Distanz als Artillerist das Fürchten lehren möchtet: In der "Winklers Legion" werdet ihr einen Platz für euch finden. Und wenn die Schießerei zu Ende ist und der Rauch sich verzieht heißt das noch lange nicht, dass der Spaß aufhört. Denn es gibt noch eine Vielzahl weiterer Spiele in denen wir gemeinsam unterwegs sind.
Wir freuen uns schon auf dich.
Für den Süden!/For the South!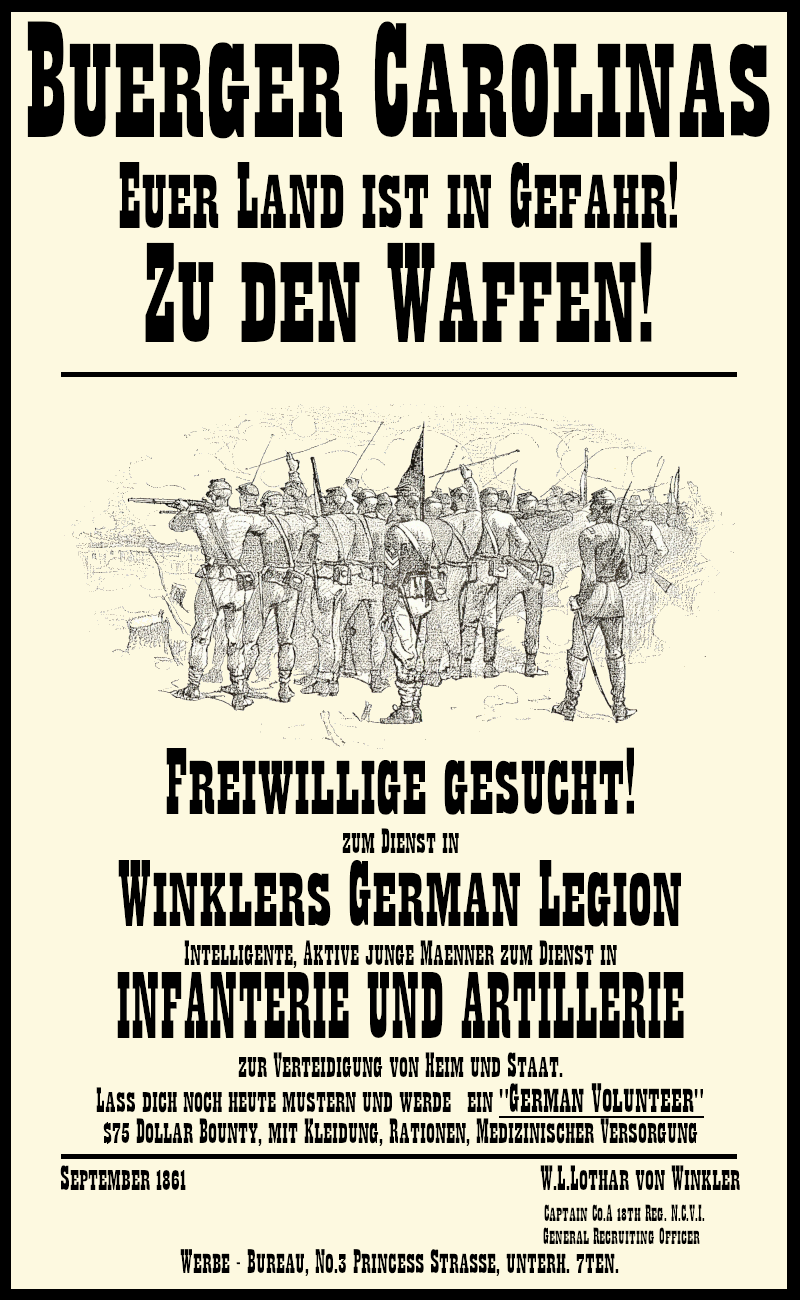 Haben wir vielleicht dein Interesse wecken können? Möchtest du uns beitreten und für den glorreichen Süden im Namen der "German Legion" als zäher Soldat North oder South Carolinas kämpfen? Oder möchtest du einfach in diesem amerikanischen Krieg dein Herkunftsland vertreten? Was auch immer deine Gründe sind, bei uns wirst du freundlich aufgenommen und findest dich mit Hilfe unserer tüchtigen NCOs und hilfsbereiten Privates sicherlich schnell zurecht. Und wenn War of Rights mal nicht im Mittelpunkt steht, dann mausern wir uns zu einer richtigen Gaming-Community in der für jeden Geschmack was zu finden ist, oder auch einfach mal über Gott und die Welt diskutiert werden kann.


Schritte zur Aufnahme:



Melde dich bei uns im Company-Tool...




... oder über unsere Steamgruppe




... oder hinterlasse uns einen Kommentar auf dieser Seite.




Wir werden uns mit dir in Verbindung setzen und alles weite erklären.
Worauf wartest du also? Melde dich noch heute zu einer unserer Kompanien und zeig der Union, dass der Süden seine eignen "German Boys" hat.
We are a part of: